Drive safely, as road accidents are now the eighth leading cause of death in the world, according to the WHO
---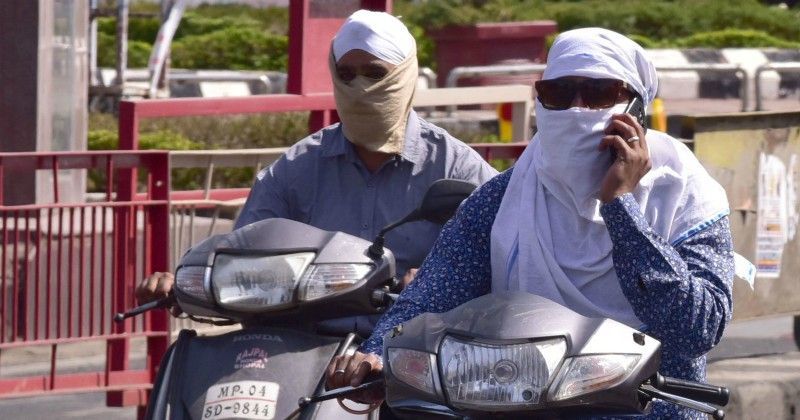 The World Health Organization has released its 2018 Global Road Safety Report and it shows that road safety is not getting the attention it deserves.
According to the report, road accidents are one of the leading causes of death worldwide, killing 1.35 million each year. Strong policies and enforcement, smart road design, and powerful public awareness campaigns can save millions of lives over the coming decades.
Data shows that low- and middle-income countries bear the highest number of road deaths and injuries. The report studied the road safety laws of 175 countries, of which 123 countries are said to have road traffic laws in line with best practices.
Source: WHO report
Unfortunately, Road traffic crashes are the leading cause of death among children and young adults aged 5 to 29, and the eighth leading cause of death worldwide. The data also shows that there is still a strong association between the risk of road fatalities and the income level of countries. With an average rate of 27.5 deaths per 100,000 population, the risk of road deaths is more than three times higher in low-income countries than in high-income countries where the average rate is 8.3 deaths per 100,000 inhabitants.
As the auto industry grows, more and more vehicles are found on the streets. India is the fourth largest vehicle producer in the world which is now applying new vehicle safety standards to passenger cars and motorcycles.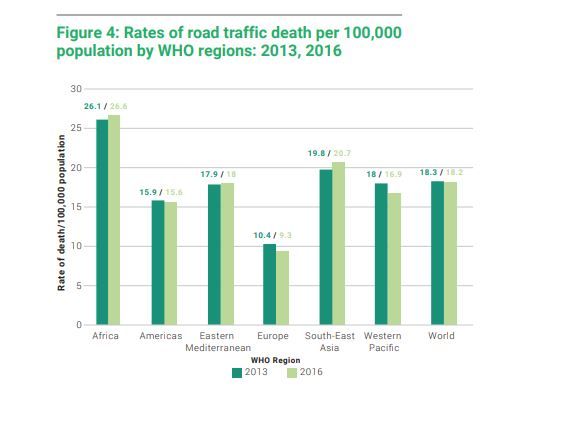 Source: WHO report
When independent crash tests were carried out in 2014, it was discovered that the best-selling Indian model would fail the UN crash test in a frontal impact. However, in 2015, the Indian government announced the application of new rules and regulations in line with UN standards.
The pedestrian protection regulation for new models entered into force from October 2018 and will apply to all new cars from October 2020. In addition, new cars must be fitted as standard with airbags and a warning device for speeds above 80 km / h.
The report highlighted that cars which have not passed new crash tests such as the Tata Nano are being phased out.
The next challenge for India is to deploy electronic stability control which is currently installed in more than 70% of new passenger cars worldwide, but in less than 10% of new cars in India, according to the report.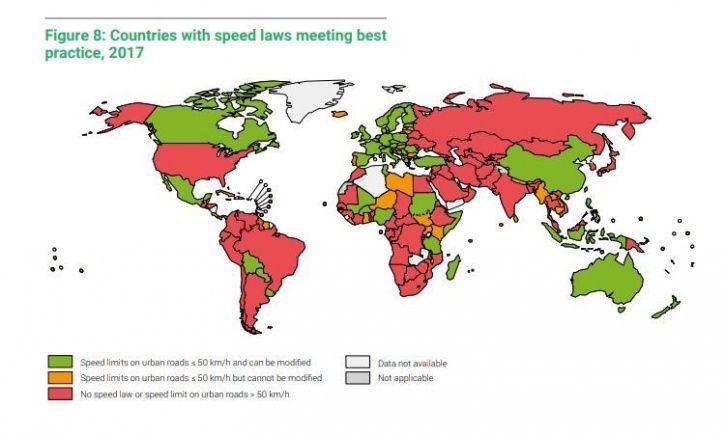 Source: WHO report
Those who have succumbed to road injuries have been widely identified as vulnerable road users such as pedestrians, cyclists and motorcyclists who account for more than half of all deaths worldwide. Car occupants accounted for 29% of all deaths worldwide.
"In Southeast Asia and the Western Pacific, the majority of fatalities are among motorized two- and three-wheelers, who account for 43% and 36% of all fatalities, respectively. " The speed at which a vehicle is moving determines the risk of an accident and, according to the report, maximum city speed limits should be less than or equal to 50 km / h, according to best practice.
However, India did not have a speed law because the speed limits on urban roads were above 50 km / h. Drunk driving has been determined to be the cause of 35% of all road fatalities. Although India has shown positive results in the use of helmets and seat belts, it seriously lacks child restraint laws, which is a requirement to place children at least up to ten years old. years or 135 cm tall in a child restraint. the front seat; and a reference to a safety standard for child restraint systems.