School safety fears McDonald's drive-thru plan
---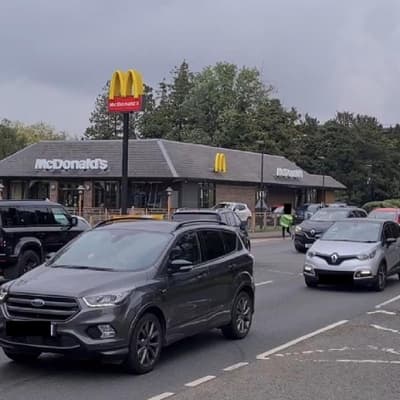 A SECONDARY school has weighed in on the planning battle for a new drive-through McDonald's restaurant, saying it fears for the safety of pupils crossing the busy A40 near the junction with the congested two-lane roundabout .
John Kyrle High School's objection is one of more than 220 sent to Herefordshire Council planners over the proposed development of a 0.73 hectare meadow site off the new St Mary's Garden Village estate in Ross- on-Wye.
The 24/7 drive-thru has its supporters, however, with more than 100 pledging to support the 136-seat fast food restaurant, which is expected to see up to 2,440 vehicles a day.
In a letter to planners, 1,460 Rolls School Commercial and Financial Manager Christine Bryan said: 'John Kyrle Secondary School would like to raise concerns about the proposed fast food outlet on the site adjacent to the A449. and A40.
"The McDonald's in question is very close within walking distance of our secondary school and we are very concerned about the safety of our students, because this type of food point naturally attracts a lot." There is a footpath along Ledbury Road which leads to the very busy roundabout, which connects the A449 and the A40.
"This would be the most suitable walking route to McDonald's, from the town and from our nearby high school and primary school.
"Any walker needing access to the outlet would walk straight into an extremely busy and often congested roundabout.
"They would have to cross the busy A40 and that worries us.
"We appreciate that there is a reference to pedestrian access and the installation of guardrails, to encourage pedestrians to proceed to the crossing already installed, in the planning documents, but this measure of security does not seem adequate to us." The nearby roundabout is already suffering from congestion and with additional traffic attracted by fast food this will no doubt make the situation worse and will also impact access to the town and ultimately nearby schools .
Residents of St Mary's Garden Village have formed a campaign group to protest the plans, submitting a 34-page summary explaining why it should be rejected, while Ross-on-Wye Town Council says it is going to l against its neighborhood development plan and would affect business in the downtown area.
Neighborhood Campaign founder Julia Batty said: "Children will not be safe. You already take your life in the head when you cross this roundabout, can you imagine what it will be with the traffic of McDonald's?
"Residents do not allow their children to play outside for fear of being hit by traffic…
"The environmental issues caused by a fast food outlet here in terms of emissions, noise, unsociable behavior, are well documented around other 24-hour McDonald's, as are the waste issues they cause."
McDonald's says the scheme – close to Burger King on the A449 and a KFC, Starbucks, Subway and Greggs – will create 65 jobs
And a spokesperson said the company was at the forefront of encouraging healthy eating, saying: 'There are few restaurants in the country that can claim to have made so many positive changes to support healthy eating habits. healthier lives.
"McDonald's believes the lessons they have learned from these changes can be used to support a broader campaign to reduce obesity.
"McDonald's customers are becoming more health conscious and watching what they eat."
If approved, the site will include space for 48 cars, including five disabled spaces, 20 bicycles and four motorbikes.
And many support the plan, with Jo Knox saying: "The city desperately needs jobs for young people.
"I hope this will also encourage planners to expand our much-needed services."
Sofi Sullivan added, "I'm all for creating more jobs!"
And Craig Bishop said: "I fully support the bid which will bring much needed jobs to the city and attract more walk-through businesses which can only benefit the city as a whole."