TxDOT 'Be smart. "Drive Safely" Campaign
---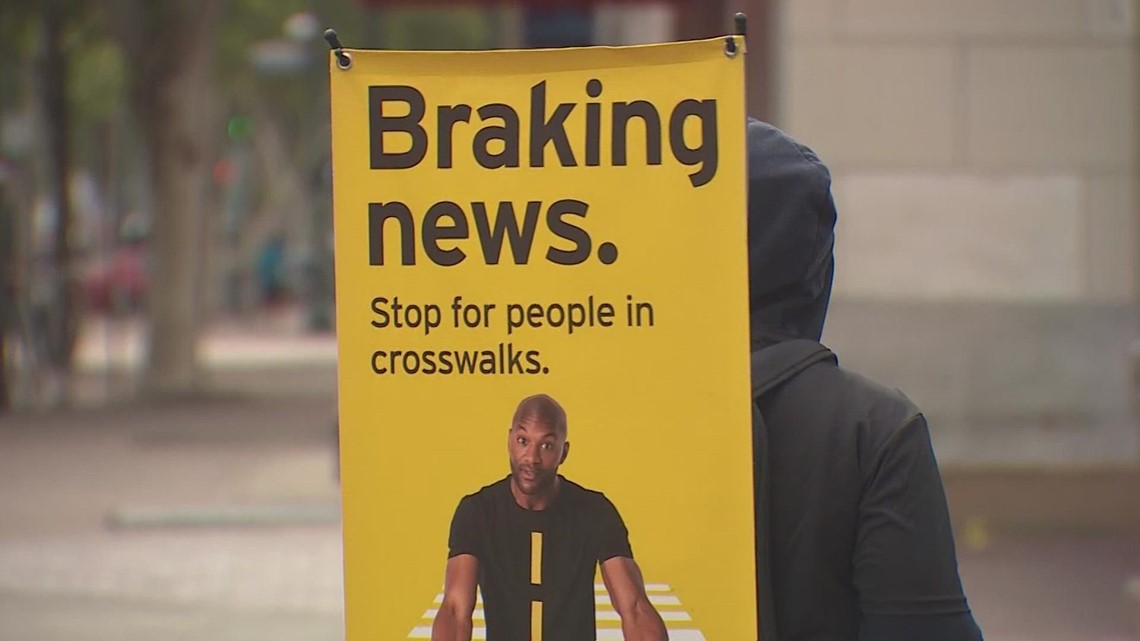 The Texas Department of Transportation is working to reduce the number of pedestrian fatalities on Harris County roads.
HOUSTON — So far this year, 122 pedestrians have been killed in traffic crashes in Harris County.
This is the highest number from January to September in the past 5 years, according to the Texas Department of Transportation.
It's one of the main reasons TxDOT is launching a new safety campaign, just in time for National Pedestrian Safety Month. Throughout October, people will see human billboards in Houston and throughout Texas advertising the message "Be Smart. Drive Safely."
RELATED: NTSB Pushing For All New Vehicles To Have Alcohol-Sensing Technology
Unfortunately, pedestrian fatalities on the roads are far too common in the greater Houston area; from side streets close to businesses to main thoroughfares to highways and highways. In fact, in 2021, there were 204 pedestrians killed in traffic crashes in the Houston area, up 15% from 2020. There were 383 serious injuries.
In May, a report by KHOU 11 Investigates found that in 70% of pedestrian fatalities on the roads over the past 5 years, the pedestrian was at least partly responsible.
Thus, a friendly team will carry signs reminding drivers and pedestrians to follow the rules of the road, keep their distance and cross at intersections and on sidewalks.
RELATED: TxDOT aims to keep roads safe with 'Be Safe'. Drive smart.' country
"If there is no sidewalk, walk on the left side of the road facing oncoming traffic… so that no cars can sneak up behind you. Distracted driving is a big problem," said Emily Black of TxDOT. "Failure to respect the right of way, driver inattention and speeding were the main causes of pedestrian accidents last year. Alcoholism was reported in 25% of pedestrian fatalities.
After all, one of the smartest ways to drive safely is to drive sober.